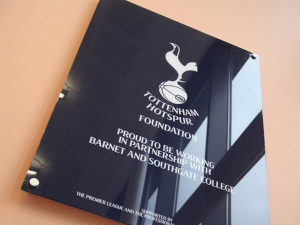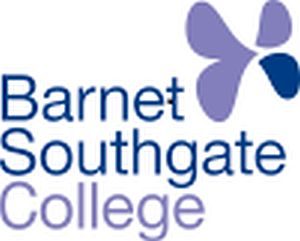 In November 2014, I was asked by the Tottenham Hotspur Football Club Foundation and Barnet & Southgate College to create an abstract painting commemorating the opening of their Learning Disability Centre, which is an amazing state of the art facility.
Being a big Spurs fan and knowing how essential the college is to the area made this a very special commission for me. The Centre is an amazing facility that provides a wide range of services to a large number of students, equipping and preparing them for an independent life.
The brief I was given was to create my interpretation of an amalgamation of the corporate colours of both organisations. It was imperative that I got the colours right. Time was not a luxury I had as there was only one week to complete this huge task before the Centre had its opening ceremony scheduled. I had never undertaken a commission with such a short deadline, but I didn't want to say no to this one!
The finished piece was to be displayed in the entrance of the spacious reception area on a large wall behind the main desk. The piece had to be large enough to make an impact when students, staff and visitors entered the building. This was going to be one of my largest canvases. I had to put the piece on two easels while I was working on it.
The college provided me with a room to work in which was perfect, with great light and space. It had to be done on site due to the huge size of the piece.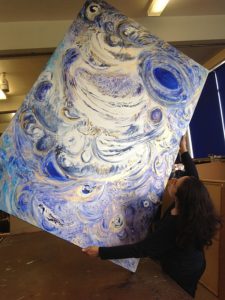 I have to say it was probably my hardest commission to date. It was very important to have each organisation's colours fairly represented proportionally. I had to do some templates beforehand, to see how the colours merged together and I was allowed to introduce a gold metallic sheen (to enable the surface to change in the light). The piece would be placed right next to a huge floor-to-ceiling window so I really wanted to include a metallic element.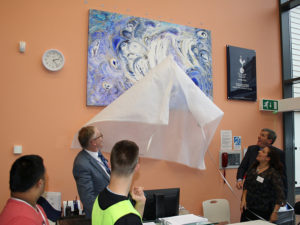 It was a very fulfilling experience to work on this commission. I was at the college every day till late to get it done. The staff at the college were very helpful and gave me everything that I needed.
Thankfully I got it done just in time. Often, I was the last to leave in that part of the building, which was a bit scary as it was very dark- but it was all worth it.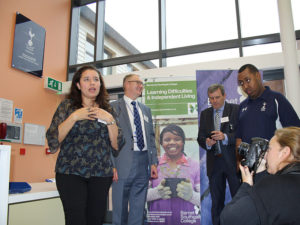 The day of the opening ceremony created such a buzz around the whole college. The students were super excited as they heard we were going to be joined by a couple of Spurs players as well.
After speeches by Grant Cornwell OBE, (CEO of Tottenham Hotspur Foundation) and David Byrne (Principal and Chief Executive of Barnet and Southgate College) and I, we unveiled the painting together. It was a really special moment for me as I loved having the students and staff give me feedback on the new painting.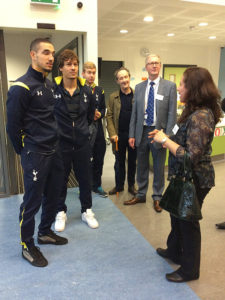 Spurs players Benjamin Stambouli and Nabil Bentaleb then joined the proceedings. I got a chance to explain aspects of the piece to them before they took part in various fun and games with the students at the centre.
I am so happy it all worked out. I did have a few moments during that crazy week when I was questioning why I said 'yes' to what felt like an impossible task. But after everything working out, I am so glad I did!
The full article about the other activities that took place that day are on Spurs website.